Press Room
Announcements & Press
Announcements & Press Releases
Send in your announcements and press releases to Karin Hall of Seniors Resource Guide.com for posting on this page. Contact email Karin – CLICK HERE or call her at 303-794-0799.
---
Denver Senior Coalitions 2019 Membership Drive has started – Join Today – CLICK HERE
July 2019
July and August 2019
2019 Statewide Outreach and Engagement Forums on Affordable Housing in Colorado
The Forums are across Colorado: Centennial, Durango, Fort Collins, Grand Junction, Pueblo
Help DOH spend $1 Billion in Housing Funds! Housing Colorado, the Colorado Department of Local Affairs, Division of Housing (DOH) and the Colorado Housing and Finance Authority (CHFA) are pleased to host Colorado statewide Outreach and Engagement Forums. Participants will hear from each agency on policies, programs and recent housing-related legislation. Through facilitated discussions, participants will provide perspective and opinions on how existing programs are working, where additional funding could be most useful and effective, and the resource, research and technical assistance needs of their communities.
View Event Flyer – CLICK HERE
August 12, 2019 is the Death and Taxes: Understanding at Least One of Them.
You will: See, hear, and interact with a select group of lawmakers, policy experts and fellow citizens as we, together, unravel the mysteries of how these laws and constitutional amendments: GALLAGHER (1982), TABOR (1992), SENIOR PROPERTY TAX EXEMPTION (2000), AMENDMENT 23 (2000) REFERENDUM C (2005), and Proposition CC (2019) together, impact your lives, your schools, your roads, fire departments, and law enforcement in significant and meaningful ways. And what every voter needs to understand about Proposition CC, coming on the fall ballot. This event is at the PPA Event Center at 2105 Decatur St, Denver, CO 80211. Free Parking! 
Buy your ticket – CLICK HERE
RiverPointe Senior Living has an opening for an Activities Assistant
RiverPointe Independent Community of Littleton has an immediate opening for a Part-time Activities Department Assistant. The right candidate for the position would ideally transition into a salaried position as Director of Resident services – CLICK HERE
Sunrise at Cherry Creek is hosting "Third Thursday Thrive" Networking Meetings
Address: 251 S. Colorado Blvd., Denver, CO
Start your morning with the most important meal of the day among your most important connections in our field. Sunrise invites all professionals in Senior Care to attend a networking breakfast on the 3rd Thursday of each month. July's meeting is on July 18th from 8:30AM to 9:30AM.
Website: www.sunrisecherrycreek.com
January 2019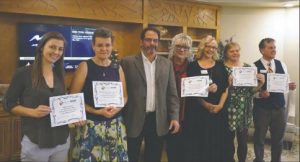 Denver Senior Coalitions Celebrates Non-Profits Serving Older Adults
At the December Holiday Party of the Denver Senior Coalitions, this senior professional networking group showed their holiday spirit. The organization gave away Joint Coalition Assistance Fund awards of $3,000 each to 5 deserving organizations that serve older adults.
Recipients included A3, The Colorado Gerontological Society, GLBT Community Center of Colorado, Neighbor Network, and Sunshine Home Share Colorado. These 5 organizations are members of the Denver Senior Coalitions and they went through a detailed application process. Companies that serve seniors are invited to attend a networking meeting and consider joining for 2019. Learn more about the organization – CLICK HERE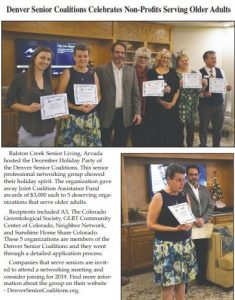 Denver Senior Coalition members PrimeTime for Seniors attended the event and took photographs of the JCAF recipients and ran an article about the December holiday party in their January 2019 Newspaper. Link to their website to learn more and view the January 2019 Newspaper
Link to January 2019 PrimeTime for Seniors – CLICK HERE
Our article is on page 19.
Website: myprimetimenews.com
East
Ask a question of an East Director
Northwest
Ask a question of a Northwest Director
Southwest
Ask a question of a Southwest Director
South
Ask a question of a South Chapter Director
Submit your Events
Submit your events for publication. Professional events are posted on this website and events for consumers are posted on Seniors Resource Guide.
Submit your Events – Click Here
View Events for Seniors in Denver – Click Here
View Events for Seniors in Boulder-Northern Colorado – Click Here
View Events for Seniors in Colorado Springs – Click Here