Press Room
Announcements & Press
Announcements & Press Releases
Send in your announcements and press releases to Karin Hall of Seniors Resource Guide.com for posting on this page. Contact email Karin – CLICK HERE or call her at 303-794-0799.
---
Join the Denver Senior Coalitions for 2018
New for 2018, Denver Senior Coalitions is structuring the annual membership dues by "organization". This means that for whichever option you sign up for (1 Chapter, 2 Chapters or 3 Chapters + the 4th), you can have as many people from your organization added to the Chapter membership list as you want. For example join one chapter for $75.00 and as many people from you organization can attend that chapter, join 2 chapters for $150.00 and as many people from you organization can attend those two chapters and so on.
– READ MORE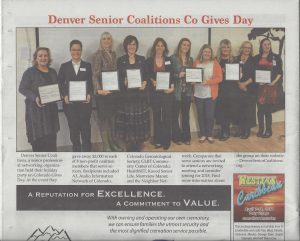 January 2018
Denver Senior Coalitions is in the News!
A big thank you to Prime Time for Seniors Newspaper for running a feature on the Denver Senior Coalitions in their January 2018 issue. The article features a large photograph of our ten Colorado Gives Day recipients from our 2017 Holiday party. This article and photograph is a push to grow our membership and get new organizations interested in our networking meetings. Prime Time for Seniors Newspaper is a member of all 4 chapters of the Denver Senior Coalitions. If you see Jessica Edgar, Debbie Watson or Bill Doyle of Prime Time at a meeting, be sure to tell them, "Thank you." Here is a link to the online version of the paper our group was featured in – CLICK HERE
Website: MyPrimeTimeNews.com
East
Ask a question of an East Director
Northwest
Ask a question of a Northwest Director
Southwest
Ask a question of a Southwest Director
South
Ask a question of a South Chapter Director
Submit your Events
Submit your events for publication. Professional events are posted on this website and events for consumers are posted on Seniors Resource Guide.
Submit your Events – Click Here
View Events for Seniors in Denver – Click Here
View Events for Seniors in Boulder-Northern Colorado – Click Here
View Events for Seniors in Colorado Springs – Click Here