The 2019 Joint Coalition Assistance Fund (JCAF)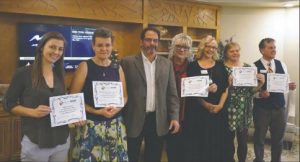 The Denver Senior Coalitions' Joint Coalition Assistance Fund (JCAF) receives monies that have been paid as dues to the four Denver Senior Coalition Chapters. Our non-profit members are invited to apply for these funds through an application and vetting process.
At the 2019 December Holiday Party of the Denver Senior Coalitions, this senior professional networking group showed their holiday spirit. The organization gave away Joint Coalition Assistance Fund awards of $3,000 each to 5 deserving organizations that serve older adults.
Recipients included A3, The Colorado Gerontological Society, GLBT Community Center of Colorado, Neighbor Network, and Sunshine Home Share Colorado. These 5 organizations are members of the Denver Senior Coalitions and they went through a detailed application process.
---
Learn more about our 2019 JCAF Awardees:
Photo provided by PrimeTime For Seniors Newspaper
Link to January 2019 PrimeTime for Seniors – CLICK HERE
Article on JCAF and our award winners is on page 19.
Website: myprimetimenews.com