Hello Denver Senior Coalition Members,
Below we are sharing a memo from Governor Polis on Coronavirus (COVID-19). Read below to learn more about what is being done to protect Colorado communities.
Regards, The 2020 Denver Senior Coalition Executive Board
---
Friday, March 13, 2020
Dear Community Leaders,
As some of the most prominent leaders in our state with the ability to communicate to large networks of Coloradans, and given our need to reach as many Coloradans as possible during this difficult time, I will be providing this group with periodic updates on our efforts to protect our state from novel coronavirus (COVID-19), with the hope that you can pass information on to your networks.
The state has been preparing for this situation for months, which has allowed us to take swift action to combat the spread of the COVID-19, with a special focus on protecting vulnerable populations like Coloradans over 60 years old and those with underlying health conditions who experience an exponentially higher fatality rate when infected.
We are constantly consulting with public health experts and studying the responses in other states and nations so we can implement the most effective, science-based policies here in Colorado to keep people safe. My apologies for the long email but we wanted to give you as much information possible!
Quick Links Stay Up to Date
Topline Update as of March 13, 2020
Currently we have 72 positive cases of coronavirus in the state and today we announced the first death in our state due to COVID-19. We have confirmed community spread in the high country as well as Denver.
We need to be realistic — the number of positive cases likely far exceed the number of cases we have confirmed. We have to take measures to protect the public health and the capacity of our health care system to treat the most vulnerable among us.
State of Emergency
Last week, I declared a state of emergency in Colorado and since then, I have used emergency powers to:
Instruct health insurance companies to waive fees and costs associated with testing for coronavirus,
Establish a drive-up testing facility at 8100 Lowry Boulevard in Denver to expand our testing capacity and in just two days they tested 650 people,
Ensure that workers in food service, hospitality, health care, child care, and education have access to paid leave so that they don't come into work sick, and access to unemployment insurance in the event that they become infected,
Ensure that state workers, including those working in our 24-hour facilities, have the flexibility to take time off if necessary for testing, treatment, and recovery,
Restrict visitation to facilities that serve our most vulnerable populations like older Coloradans and those with underlying health conditions to keep them safe,
Establish guidelines for school, university, and child care facility closures to protect children, parents, educators and staff.
Developed guidelines that recommend that all mass gatherings and community events scheduled of more than 250 people, unless the organizers of the gathering and/or the venue can ensure proper social distancing (6 feet of distance between parties) be cancelled.
Expanded Testing Capacity
Expanding testing is essential because the more we can test, the sooner we can identify positive cases and hotspots, the sooner we can isolate those who are infected and quarantine those who were exposed, which gives us a better chance of containment.
We are expanding our testing capacity as quickly as we can by:
Opening a state drive-up testing facility at 8100 Lowry Blvd. in Denver for those who have doctor's approval to get tested.
Working to get additional state testing facilities opened with a special focus on the High Country.
Working with partners like UC Health, Centura, Children's Hospital, Kaiser Permanente, community health centers like Stride, LabCorp and Qwest to dramatically ramp up testing capacity for our state.
Securing commitments from the federal government to deliver more test kits to Colorado for use.
Expanding Health Care Workforce
As can be expected, this will put enormous strain on our systems and our workforce, particularly for our health care workers.
In order to scale up our health care workforce capacity we have:
Asked the Colorado Department of Regulatory Agencies to cut through the red tape on licensing our medical professionals so that medical professionals with licenses in other states can be licensed in CO as quickly as possible.
Contracted nurses from out-of-state to arrive on Monday to help with our communities that have been hit the hardest.
Authorized every EMT and paramedic in the state to administer the test.
Asked doctors and nurses who are not currently out of the workforce or retired to reconnect with their past employers in the event we need surge capacity
Reached out to Anschutz Medical school and asked to tap into their network of qualified nursing, medical professionals, pharmaceutical experts, and other graduate students to help the conducting COVID-19 testing to help increase our capacity
Activated the National Guard, and are currently training medics in the National Guard, in order to provide additional testing capacity and to train other community medical providers on setting up their own mobile testing labs.
Flattening the Curve
The number of cases will continue to grow in the coming days and weeks, but we are dedicated to slowing the rate of spread.
We are committed to avoiding the first trajectory – in pink, where a lack of action on our part results in an overload of the public health system.
Instead, we aim to follow the second trajectory – in grey and take the proper preventive measures, which may prolong the crisis, but will not overload our public health capacity.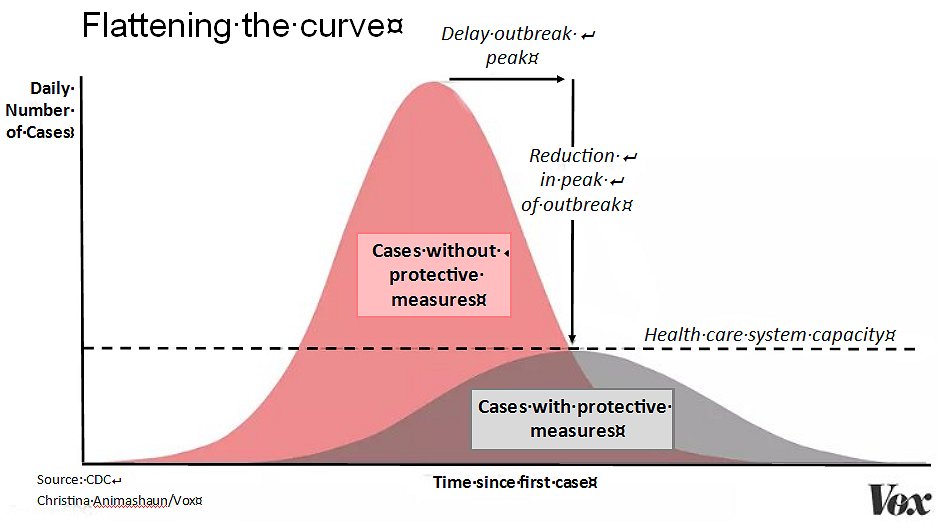 Further Recommendations
As we work to expand our testing capacity,we're also providing recommendations to further keep people safe, including:
Recommending that all businesses to provide paid leave so that employees don't come into work sick and spread the virus to others,
Recommending that older Coloradans and those with underlying health conditions refrain from attending large social gatherings, and refrain from visiting mountain resort areas where community spread threatens to overwhelm the local public health care systems in those areas,
Recommending that Coloradans engage in proper hygiene and social distancing to limit contact with others.
Hygiene & Social Distancing Guidelines
There is currently no vaccine to prevent COVID-19.
Here are some suggestions from the CDC for how to protect yourself:
Keep a six foot distance between yourself and others.
Avoid shaking hands or unnecessary touching.
Avoid close contact with people who are sick.
Avoid touching your eyes, nose, and mouth.
Stay home when you are sick and keep your children home if they are sick
Cover your cough or sneeze with a tissue, then throw the tissue in the trash.
Clean and disinfect frequently touched objects and surfaces using a regular household cleaning spray or wipe.
Wash your hands often with soap and water for at least 20 seconds, especially after going to the bathroom; before eating; and after blowing your nose, coughing, or sneezing.
If soap and water are not readily available, use an alcohol-based hand sanitizer with at least 60% alcohol. Always wash hands with soap and water if hands are visibly dirty.
This has been a difficult few days for our state and for our country and unfortunately we expect many more difficult days ahead.
I know many are and will be disappointed by the disruptions and inconveniences that novel coronavirus (COVID-19) is causing to our daily lives, and concerned about the health and safety of themselves and their loved ones, especially Coloradans over 60 and those with underlying health issues who are more vulnerable to the virus.
But protecting the public health is the most important thing we can do, and I am calling on all Coloradans to take the appropriate steps to slow the spread of the virus.
As always, please feel free to reach out to me with any questions or needs from our office. My cell phone is 210-385-7556. I am grateful for your friendship, partnership, for your community work – and am thankful for any help you can provide in getting information out to your networks.
Thanks,
Analysse Escobar
Deputy Community Engagement Director

200 E Colfax, State Capitol, Denver, CO 80203 
https://www.colorado.gov/governor/